Featured Item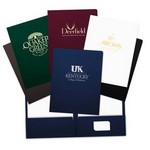 Standard 2-Pocket Round Corner Foil-Stam...
The most popular presentation 2- Pocket folder style available, Foil-Stamped from customer supplied artwork. 9" x 12", 2 Pocket Folder with Business Slits on the right pocket. Choose from a variety of...
$0.77 - $1.99
Welcome to Martin Stevens.com
Martin Stevens combines over 30 years of industry experience with a business model that insures extraordinarily low pricing for our clients.
We have access to over 600,000 items and specialize in presenting unusual solutions you won't find anywhere else.
Please contact us and experience why we are the better way to get your name out there.
Call 508/303-9393 or email us info@martin-stevens.com.